How to apply
To apply for membership as a Registered Electrical Contractor (REC) at Safe Electric you need to submit the following documentation to Safe Electric: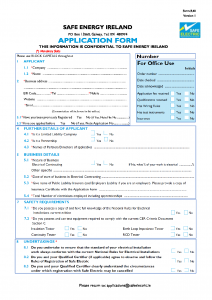 – The Public/Products Liability Policy should provide an indemnity of not less than €6,500,000.
– The Employers Liability Policy (if applicable) should provide an indemnity of not less than €13,000,000.
       Please note, all the applications with this form missing or all items not covered on the policy and stamped by the insurance company or broker will result as invalid application.
Click here to view details on the required insurance.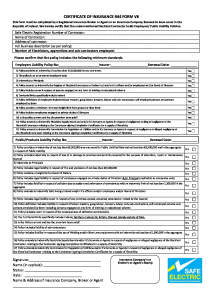 A completed Principal Duty Holder Form (PDH) confirming the name and contact details of the applicants proposed Principal Duty Holder.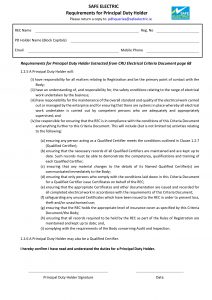 A copy of your nominated Qualified Certifier's recognised electrical qualifications, – a National Craft Certificate (Electrical) or another suitable award, equivalent to Level 6 or higher on the National Framework of Qualifications.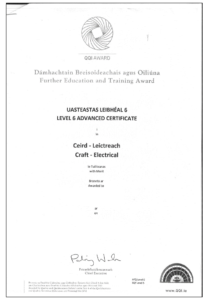 A copy of your nominated Qualified Certifier's certification of the successfully completed "Verification and Certification of Electrical Installations" Course (V&C Course). The Certificate is valid for 5 years. See below some samples of V&C Course certificates.
Click here to view accredited course providers.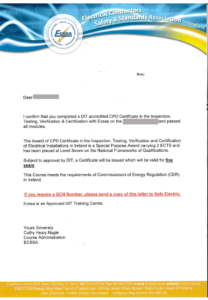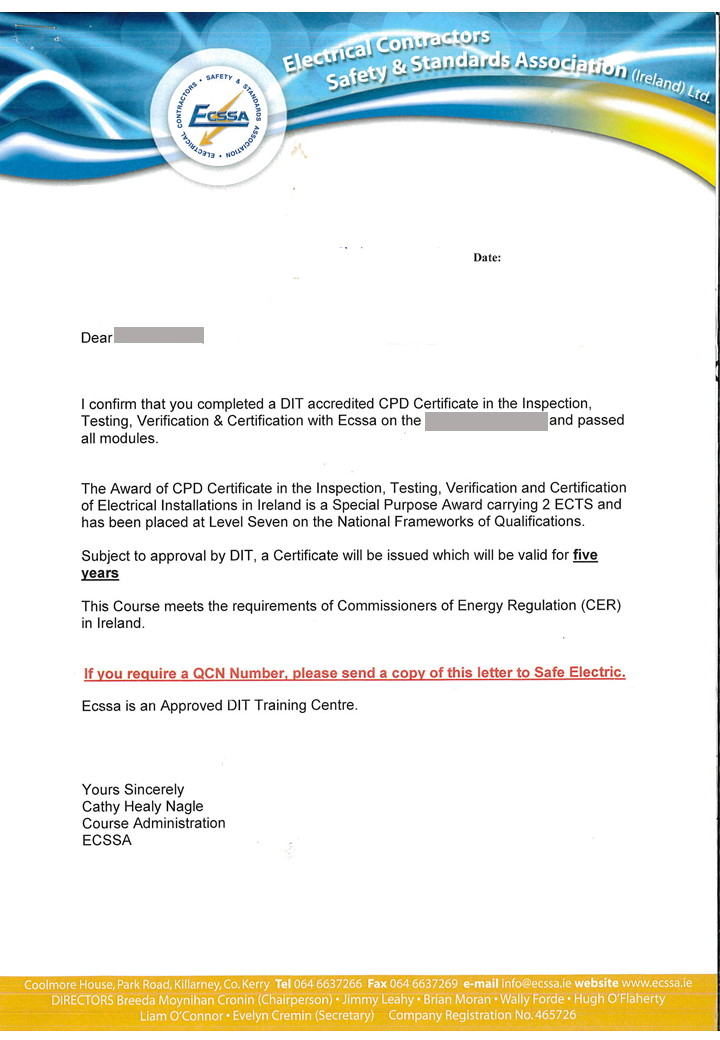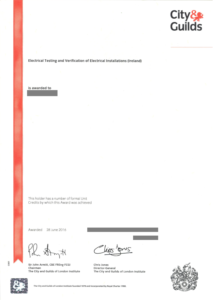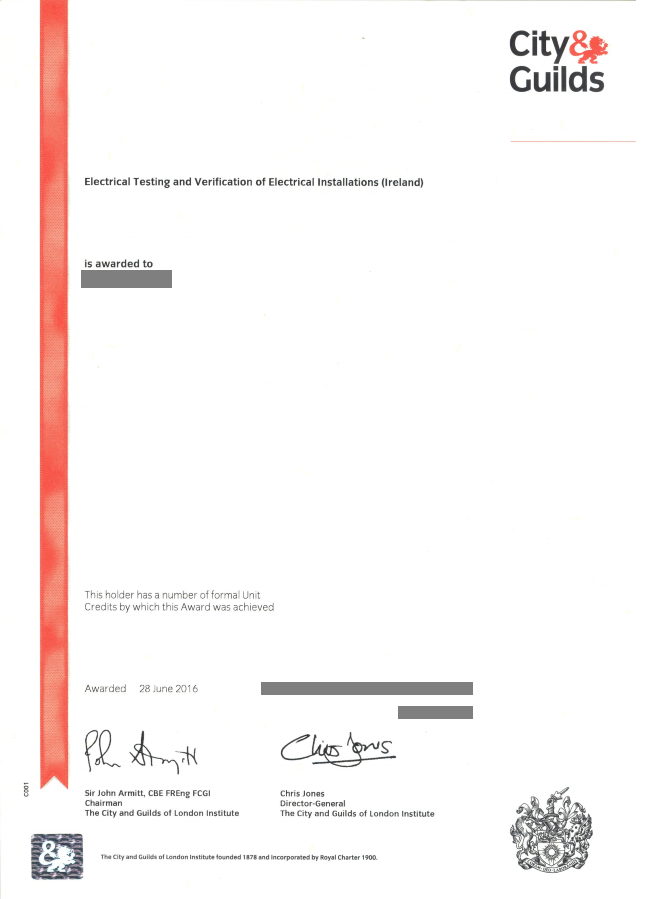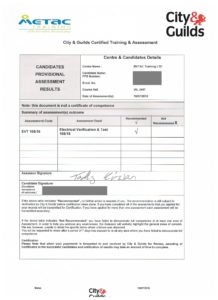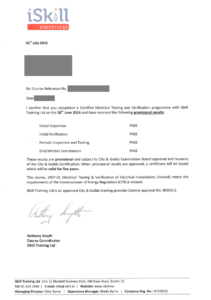 Send all documents in an email to applications@safeelectric.ie (In case of the Application Form please print the form, fill in, sign and scan)
or
via post to:
Safe Electric
Safe Energy Ireland
Hazel House
Millennium Business Park
Monread South
Naas
Co. Kildare
W91 PXP3
We can only process your application if all documents are provided.
Pay the application fee of €84 by

Request a payment link to be sent to you to complete payment online
Credit Card transaction over the phone or
Your application will be evaluated and decided upon within working 15 days.
International Qualifications
If you hold a City & Guilds qualification such as Level 3 Diploma in Installing Electrotechnical Systems and Equipment (Buildings, Structures and the Environment) (C&G 2357) you may be able to apply directly to Safe Electric.
Please contact Safe Electric: info@safeelectric.ie  /+353(0)91 480974.
Role of Safe Electric
Safe Electric's primary objective is to protect the safety interests of the public with respect to electrical installation activities through the registration and supervision of electrical contractors.
Safe Electric carries out this function on behalf of the Commission for Regulation of Utilities (CRU) through the Registered Electrical Contractor (REC) statutory regulatory scheme.
To be eligible to become a REC ordinarily requires holding certain Irish professional qualifications.
For electrical contractors who have relevant non-Irish qualifications, the CRU and Safe Electric have now put in place a system of recognition that when completed will allow them to apply to become a REC.
International Qualification Application Process
If you hold professional qualification(s) gained outside the Republic of Ireland, you must first have your qualification(s) recognised before you can make an application for registration with the Safe Electric scheme. LINK
The Directive applies to eligible persons holding qualifications from – or recognised by – a European Economic Area (EEA) Member State. Due to the timelines set out in the Directive, applicants who meet the full requirements will be prioritised. Applications from non-EEA countries may be delayed.
Application Timeline
The following are the expected timelines for to process an application:
One month to acknowledge receipt of an application, and to notify the applicant of any missing documentation.
Three months, with a possible one-month extension from receipt of the complete file, to reach a decision on the application. The applicant may appeal the decision.
Applicants can be required to take an aptitude test or to complete an adaptation period of up to three years
Subscription Fee
Safe Electric will contact you once your application has been processed.
For successful applicants the following annual subscription fee (plus VAT) will apply depending on the number of electricians working on behalf of the company:
Employing 10 or fewer electricians*:   €396.48
11 to 50 electricians*:                                €624.96
More than 50 electricians*:                    €934.08
electricians*: Total Number of employees including apprentices and subcontractors, carrying out electrical works. 
The payment should be made to the name of Safe Energy Ireland (as opposed to Safe Electric).
Inspection
Safe Electric will carry out an inspection of one of your installations within 6 months of registration.
You are not authorised to self-certify your installations until a satisfactory inspection has been carried out.
Upon successful inspection, the Safe Electric Approvals Committee will confirm your registration.
After your successful first inspection, you will be subject to an additional inspection within the following 6 months. If the result of the inspection is unsatisfactory, the applicant will be charged to pay an amount of €201.60 plus VAT for follow-up inspection*.
Please note: For the Application Inspection an electrical installation work must be presented. In case you are not able to present an electrical installation work for inspection within the given timeframe (6 months for the first application inspection and 6 months after the first inspection for the second application inspection) your application will be rejected.
*The maximum number of attempts to get the full certification is 4 including A1 and A2 Inspection. if the applicant can not reach the minimum standards of safety and quality within this 4  inspections the application process will be cancelled and the applicant shall reapply.
Please check out the Guideline for Inspections and Audits or Contact Us if you require more information.